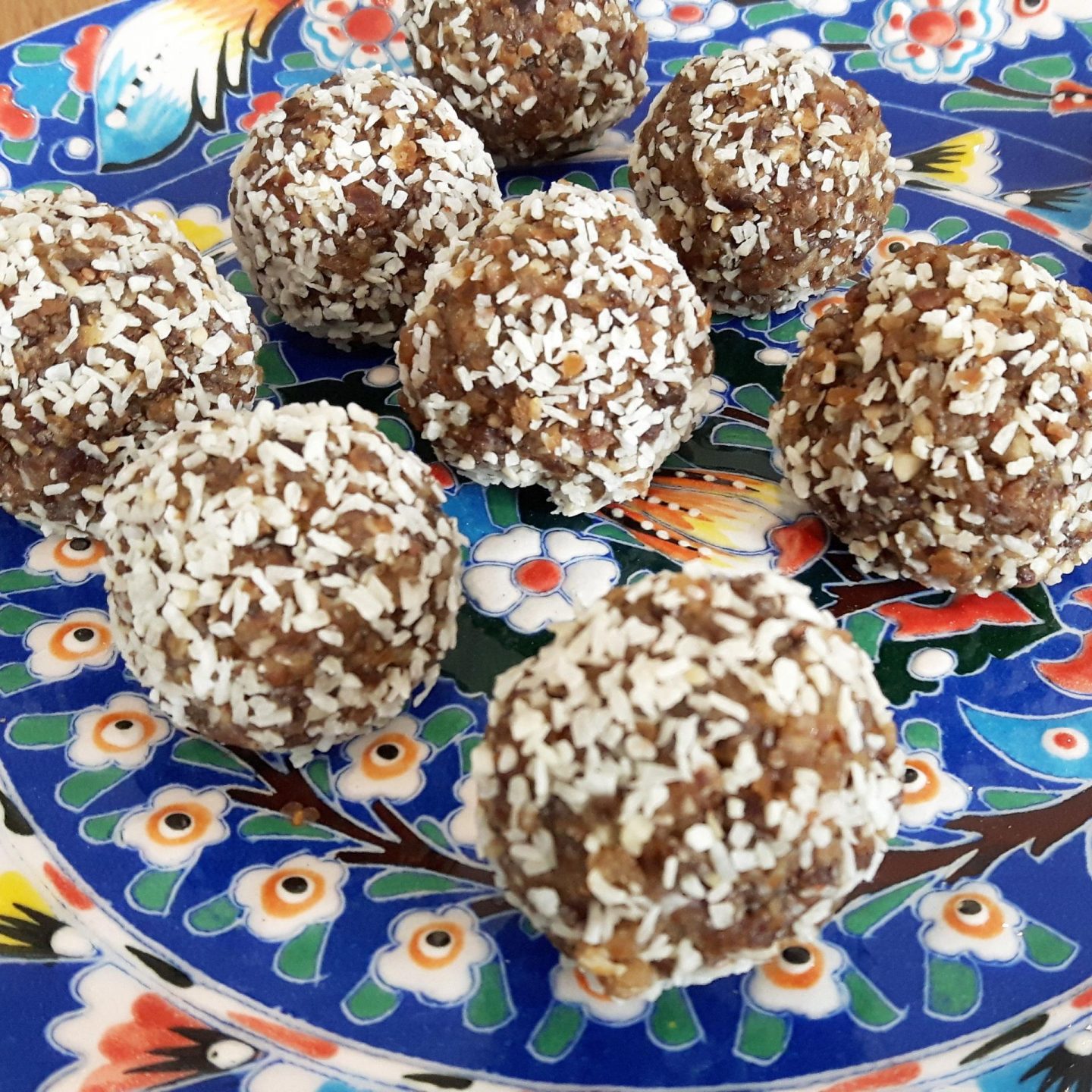 Are you somebody who loves sugar? Maybe you crave something sweet after dinner or get home from the school run dying for some sugar to give you that bit of energy to survive the evening chores. If so, then try these healthy energy balls – free from refined sugar but with all the sweetness. 🙂
Being addicted to sugar is more common than we think, it's everywhere so there's no surprise we are consuming it all the time.
I have always had a sweet tooth and I'm not going to lie, I LOVE ice cream and chocolate 🙂 BUT they do not love me if I eat them all the time so it's all about balance and finding healthier tasty alternatives such as these energy balls.
It doesn't mean you can't ever have that piece of cream cake or that glass of wine but as with everything, it's all about a healthy balance.   If you eat healthy meals and snacks 80% of the time, exercise and respect your body then you can afford to indulge occasionally.
These energy balls are a perfect snack to help curb those sugar cravings and can easily be kept in a small Tupperware pot to carry around in your bag, keeping you away from the sugar laden supermarket snacks.  Not only are they free from refined sugar, they also contain lots of other beneficial ingredients such as almonds, chia and flax seeds that help feed our brain and hemp protein powder that will help keep you fuller for longer.
You will need:
190g dates
2 tbsp chia seeds
1 tbsp ground flax seeds
2 tbsp ground almonds
Zest of one small orange
1 tbsp hemp powder
4 tbsp coconut oil (melted)
Shredded coconut
Blend the dates and coconut oil together.
Add the rest of the ingredients except the shredded coconut and mix until smooth.
Roll into small balls and cover with shredded coconut.
Place in the freezer for an hour and take out 5 minutes before serving. 😃